What Will My Actual Website Look Like?
We all look at a multitude of websites throughout the day; however, when we're involved with creating a new website design or any significant upgrade for our own company, many of us take on a quizzical look, and ask "what will my actual website look like?"
Platforms like WordPress and others certainly make it easier to build a website, yet we creative types still go through the process of design, showing the client, revise, repeat, and approve—prior to programming. This process has not changed much since the previous 10-20 years when we created mostly print materials. So how can we make it easier for the client to imagine their site prior to programming?
We at Markitects are in the process of changing what we show clients and how we show it, on multiple levels.
Let's start with brand identity and logo development. In the old, old days, we would develop logo options in black and white and once approved, we would go through a series of color exercises until the final was selected. This often caused us to go back to square one, when the client wanted to see previous versions or those logos not selected in different colors. This process was certain to cause a headache, at best.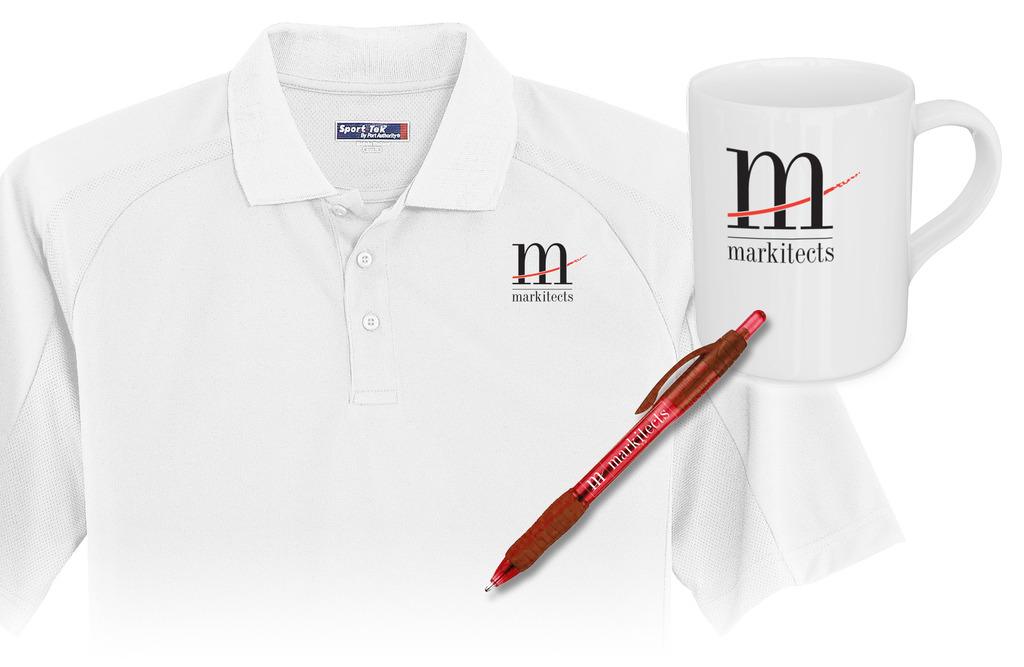 Then in the old days, we developed logo options in colors pertinent to the client's industry or similar to their old logo to capitalize on brand equity (in the case of existing companies modernizing their brand). What we noticed were a lot of questions about how it would look on their signage in front of the building, or on a T-shirt, or coffee mug. Basically visual brand could not be approved until the client actually saw it where they were accustomed to using the brand—so, not on letterhead, or even on their website. This aha moment made us change our process. Now when showing logo choices, we take the initiative to demonstrate how it will look on common applications. The results: more comfort with the choice, fewer if any changes once approved, and higher pass around value—meaning they are eager to share it with their colleague and employees—before the official launch.
The same happens to be true for websites—especially with parallax or hybrid designs. So now when we show a website design, it's still in a PDF format; however, we also show what likely will be seen 'above the fold', which really means on a typically sized desktop screen. (Let's assume that everything we're developing at Markitects is responsive design, so phone and tablet formatting are already taken care of.) We are now embracing two new best practices to address this 'how will my website look' issue.
One, we show what the website will actually look like on a screen, or very close to what it will look like on a typical sized monitor. Secondly, we show our designs along side a second computer screen with a similarly behaving website. So if designing a mega-dropdown, the client can see how that might look; and when the menu covers up some of the visuals, how it still works well within the context of the website. Another example is a hybrid site with the characteristics of both a parallax and traditional style site. It's hard to imagine a sticky navigation bar, or how the header and footers look on landing or tertiary pages; however, when placed side by side, the brain takes over and makes that connection.
To address these dilemmas, we have seen some agencies move to programming, before they show their work to clients; however, this approach is wrought with danger. Using this approach makes it seem as if the programming piece is so simple that anything can be changed. While somewhat true, certainly the change piece, it just introduces another level of choice for the client. And too many choices result in delayed projects that are rarely, if ever, improved. We have found it best to take responsibility for walking the client through a proven process, rather than giving that responsibility, and too many options, to the client. Programming first can also result in 'back to square one' scenarios, which often lead to long delays and dissatisfied clients. Providing the design mock-up as a PDF allows the client to evaluate the design, without the confusion of why the website is not yet fully functional with active links and responsive design.
While we realize that our new best practices are not perfect, we know that they have improved the process for our clients…and for us. We are open to hearing from you regarding how you demonstrate website design and functionality.
Learn more about Markitect's Website Design and Development capabilities, as well as our Digital Upgrades!